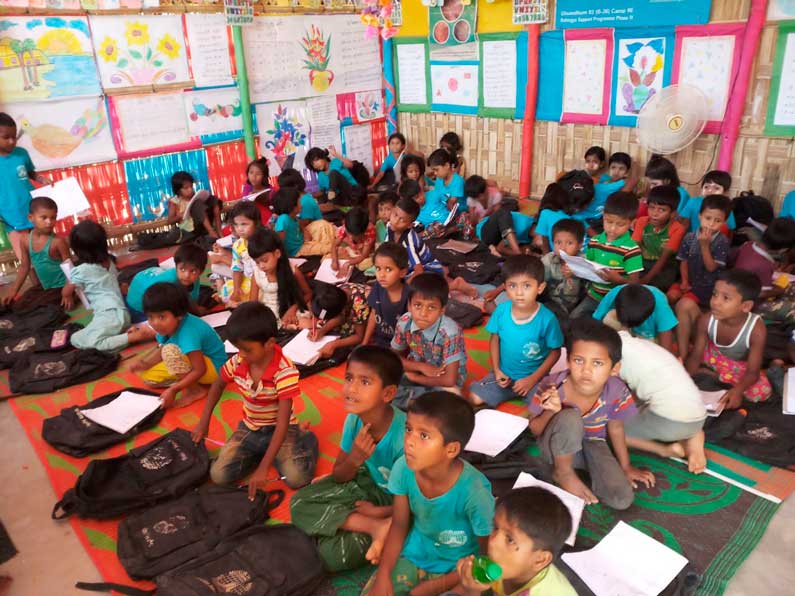 Supporting the Rohingya crisis in Cox's Bazar (Bangladesh)
Client: Muslim Hands
Evaluation conducted by: Krajai Chowdhury and David Stone
In August 2017, more than 600,000 people from the Rohingya community in Rakhine State  poured into Cox's Bazar, driven from their homes in Myanmar by escalating violence and fear of persecution. Since then, a massive humanitarian operation, led by the Government of Bangladesh and with support from national and international actors, has strived to meet the needs of these "Forcibly Displaced Myanmar Nationals".
Muslim Hands was among many NGOs to respond to this emergency, building on its strengths from other, more development, focused programmes elsewhere in Bangladesh. In this respect, and working closely alongside government departments and other counterpart organisations, activities have been supported in four camps, starting from emergency support and gradually broadening out into more care and maintenance activities in support of the Rohingya community.
Selected by Muslim Hands to conduct an independent evaluation of its interventions, consultations and fieldwork were conducted by Proaction Consulting in three camps – Ghundum 3, Balukhali and Thayngkhali – where support was provided in terms of WASH, Emergency Education, Health and Protection-related issues.
In a relatively short period of time – and operating in a challenging environment and circumstances, with quite modest resources – this programme is deemed to have had many positive impacts on people's attitudes, lives and well-being. Many instances were observed where it was clear that women and young children benefitted significantly as a result of the support provided. As an awareness-raising, knowledge transfer and health support initiative, the benefits of increased levels of awareness generated by the project are likely to stay with people for some time to come.
The evaluation acknowledges the appropriateness of this project to the situation in Cox's Bazar. This not only improved the welfare of targeted households but is likely to be a powerful stimulus to helping vulnerable people become more confident in speaking out about their needs and rights, particularly in relation to protection issues. Many people reached – project beneficiaries, community leaders and government/NGO representatives – were highly complementary about the nature and quality of services provided by Muslim Hands.